Town Hall Highlights
Augustus and Martha Barnett donated the Town Hall to the citizens of "Nuevo" on Washington's Birthday, February 22, 1894, one year before the town was re-named "Ramona" at the insistence of developer Milton Santee, to capitalize on the popularity of the fictional character in the novel of the same name by Helen Hunt Jackson. (Mr. Santee donated the two parcels of land the Town Hall was built upon.)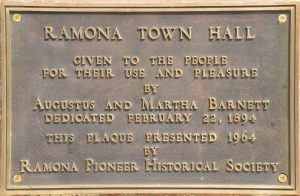 ◊ The Ramona Pioneer Historical Society presented a plaque in 1964 to commemorate the 70th Anniversary of the dedication of the Town Hall.
◊ The Ramona Town Hall was approved as a Point of Historic Interest by the California Landmarks Advisory Committee on January 26, 1973.
◊ Following the 1989 San Francisco earthquake, the Town Hall Board of Trustees closed the Town Hall pending seismic retrofit and restoration due to deteriorating walls and ceilings.
◊ The San Diego County Board of Supervisors designated the Ramona Town Hall as a Historic Landmark on November 10, 1991.
◊ The Ramona Town Hall Celebrated it's 100th Anniversary in February, 1994 with the seismic retrofit of the front half of the building complete.
◊ The "Save our Heritage Organization" awarded the Ramona Town Hall Trustees the "Civic Restoration Award" on May 10, 1994.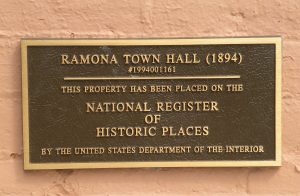 ◊ The Ramona Town Hall was placed on the National Historic Register of Historic Places on September 26, 1994 in it's centennial year.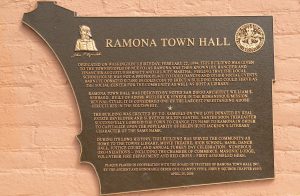 ◊ E. Clampus Vitus, John Q. Squibob Chapter #1853, dedicated their first historic site plaque in Ramona to the Ramona Town Hall on April 25, 2009.