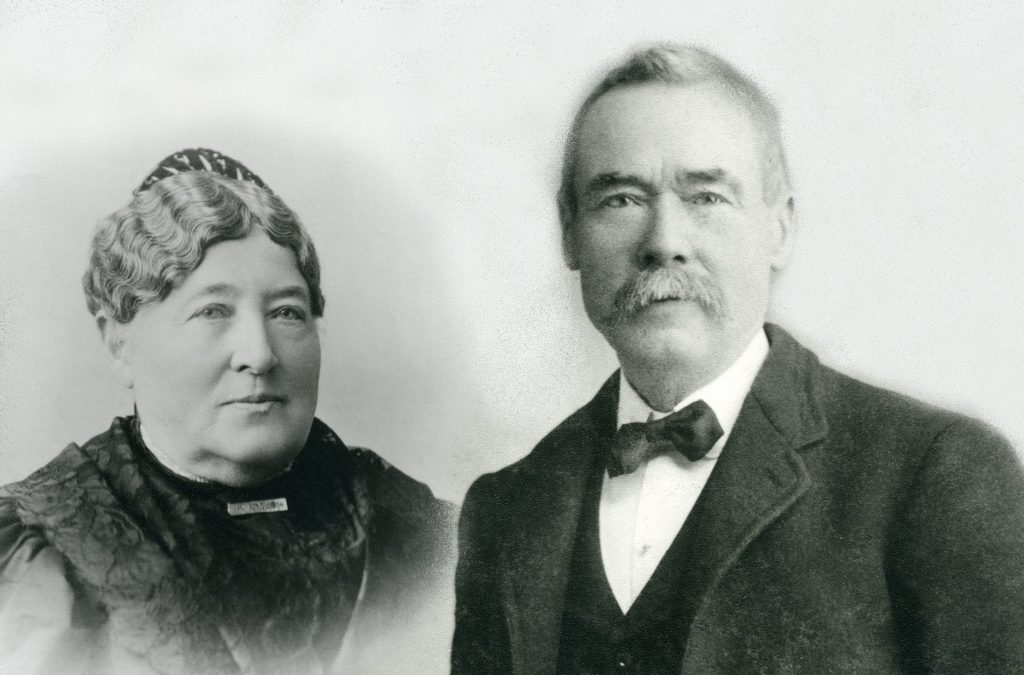 Original Benefactors, Martha and Augustus Barnett
"As the story goes, Augustus thought it improper for dances to carry on all night at the school house, and that the growing town needed a place to serve that purpose as well as a library."The Ramona Town Hall was donated to the town people of what was then Nuevo on Washington's Birthday, February 22, 1894, by Augustus and Martha Barnett. Construction on the two story edifice began on July 11, 1893 on two lots donated by realtor Milton Santee, and was completed in February 1894 at a cost of $17,000. (Later that year, at the insistence of Mr. Santee, the town was renamed Ramona, to capitalize on the popularity of the fictional character from the best seller by Helen Hunt Jackson.) The Barnett's established an unpaid five member board of trustees in perpetuity to administer the operation and upkeep of the Town Hall. For the past 123 years, the Ramona Town Hall has operated solely on private donations, fundraisers, grant moneys, and rent collected for use of the building. The Ramona Town Hall is not owned by the Town Hall Board of Trustees, nor is it a public agency. The restoration work that has taken place in the past 30 years has been funded by county administered C.D.B.G. and P.L.D.O. funds, along with private donations and the fundraising efforts of the board of trustees and honorary mayor. The work completed to date includes a complete seismic retrofit of the entire front portion of the building, installation of new plumbing and electric wiring in the east and west wings, three new restrooms, a new roof over the entire building, façade replacement, and fire sprinklers throughout the entire building.
Important Facts:
The California Landmarks Advisory Committee approved the Ramona Town Hall as a Point of Historic Interest on January 26, 1973.
The San Diego County Board of Supervisors designated the Ramona Town Hall as a Historic Landmark on November 10, 1991.
The Ramona Town Hall celebrated its 100th Anniversary on February 22, 1994.
The "Save our Heritage Organization" presented the Ramona Town Hall Board of Trustees with the prestigious "Civic Restoration Award" on May 10, 1994, the Centennial Year of the completion of the Town Hall.
The Ramona Town Hall was placed on the National Register of Historic Places on September 26, 1994.
The John P. Squibob Chapter 1853 of E Clampus Vitas dedicated a historic marker plaque for the Ramona Town Hall on April 25th, 2009 (The Chapter also presented a plaque that recognizes the Ramona Town Hall's place on the National Register of Historic Places.
The 123 year old Town Hall is one of the oldest and last original Town Halls in California, and is registered as a State Historic Landmark.
The Ramona Town Hall is one of the largest and oldest adobe structures in the entire Southwest, and features an Romanesque/Mission Revival architecture, a style unique to its architect, William Sterling Hebbard, (1863-1930.)